One of Queensland's most highly-regarded Bailiffs, Pat Asange originally established Bailiff-Sheriff Australia as a platform for court procedural information. He also wanted it ot be a place where the public could more easily understand and interact with Bailiffs and Sheriffs.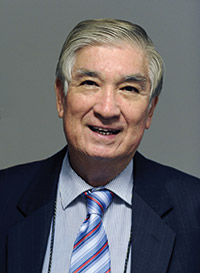 In retirement in the early 2000s, Pat developed a website and a series of seminars on debt recovery and enforcement through Australia's Civil Courts system. He had been the Senior Bailiff at Brisbane Magistrates Court for more than 20 years and been a Bailiff for more than 40 years at the time of his retirement.
In 2007, Pat Asange approached Business Acumen magazine to develop a more functional website and co-produce a Debt Recovery Manual which became an essential guide for business in Queensland. The manual was a key element of Pat Asange's Debt Recovery Seminar series.
Pat Asange sadly passed away in January 2018, still engaged daily in developing his concept of a complete online debt management and recovery platform.
Debt$et is the public-friendly result and through this site Business Acumen magazine continues to extend the Asange legacy and vision.